News
Latest updates from the Clarenceville Education Foundation:
Wednesday, March 20, 2019 7:25 AM
Clarenceville Education Foundation is excited to announce we have partnered with Botsford Commons to host our Inaugural "Lace Up, Clarenceville" 5k Walk/Run. We are also looking for various sponsors, including t-shirt sponsors too!
---
Monday, January 14, 2019 3:06 PM
CEF Announces 3rd Bowling for Education Event on February 16th, 2019!
---
Thursday, October 20, 2016 9:55 AM
Community Financial Credit Union Provides CEF with an additional $1,500 Teacher Grant
We are very excited to announce that Community Financial Credit Union has awarded our Foundation with an additional $1,500.00 grant towards the 2016-2017 Teacher Grant Program we will be implementing very soon. This is in addition to their donation of $1,000.00 during their 60 days of Summer Sharing Program. Special thanks to the entire team at CFCU for their incredible donations this year!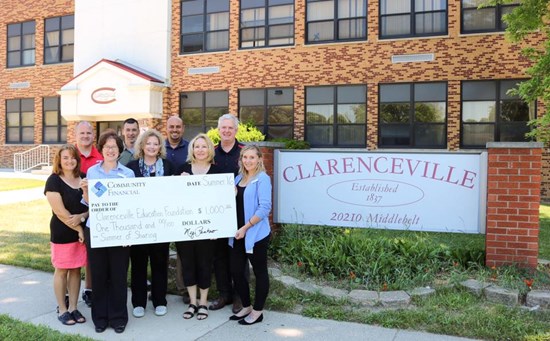 ---
Thursday, October 20, 2016 9:33 AM
Blue Plate Diner "EAT OUT FOR EDUCATION"
A huge thank you to our Clarenceville families and friends. Last week we had the perfect opportunity to join together as a community and share meals and conversation while at the same time raising funds for the Clarenceville Education Foundation.

The Blue Plate Diner, it's staff and owner Bob Modes were the best in hosting our first ever Joint Fundraiser. They donated 15% of each meal purchased to the Foundation over a two day period with the result being several hundred dollars raised for us to use in funding classroom grants.

Clarenceville is a community. Blue Plate is a supporter. Together we are building a foundation upon which we can all be proud. Thank you Clarenceville families and thank you Blue Plate.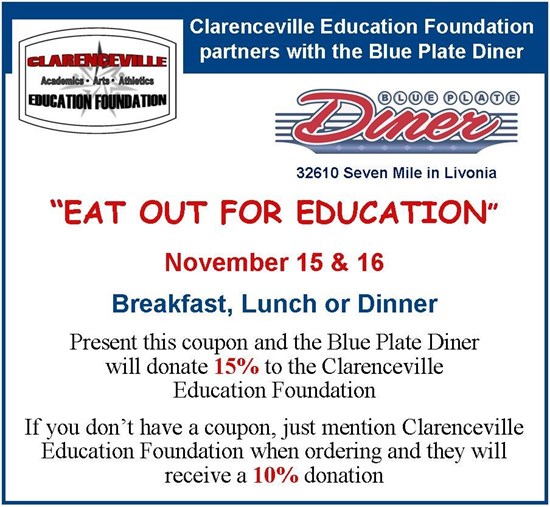 http://livoniablueplate.com/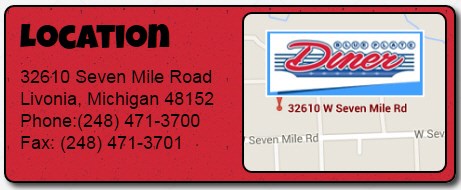 ---
Monday, April 18, 2016 11:15 AM
Join us for our Kick Off Event!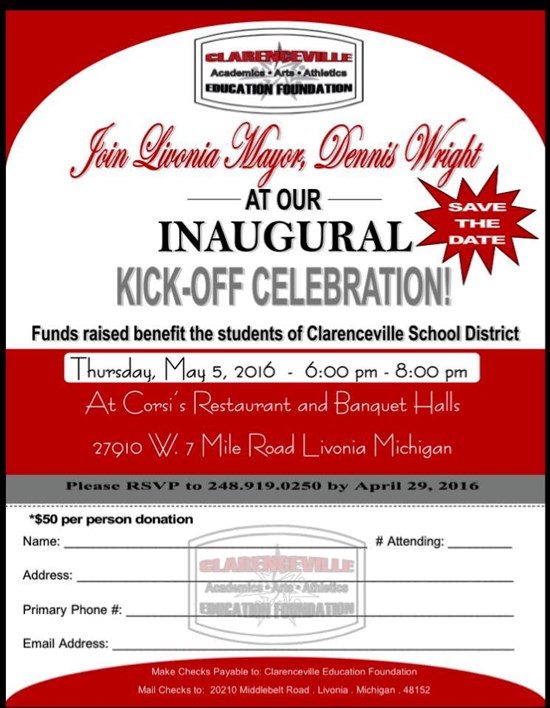 ---
Wednesday, February 17, 2016 3:19 PM
One of Michigan's oldest school districts is looking to relaunch its educational foundation next month. The kickoff event for the new Clarenceville Education Foundation will take place 6-8 p.m., Thursday, May 5, at Corsi's Restaurant, 27910 Seven Mile in Livonia.